When partnering with a third-party fulfillment provider, it's important to take note of their ability to provide a fast, effortless experience. At IDS Fulfillment, our team of experts has focused expertise that identifies essential logistical needs that allow your business to excel and meet the demands of growth or seasonal fluxes.
Our team is highly specialized and has a top priority of getting to know the ins and out of your organization's flow and future goals. With a focus on fulfillment, transportation, and distribution, our team of experts identifies essential logistical needs that can be aided to allow your business to excel and meet demands. IDS Fulfillment works to fully understand your operations and how we can seamlessly integrate them into your processes to alleviate fulfillment needs.
What is Third-Party Fulfillment?
The fulfillment process of eCommerce includes picking, packing, and shipping. Within these steps are all the complexities of the process, which include packaging, storage, locating products, inventory maintenance, and logistics management. There are several methods to fulfill orders, including a drop shipper who fulfills orders of your products for you, fulfillment of orders yourself, or working with a logistics company. 
The latter method is considered third-party fulfillment. 3PL fulfillment allows you to focus on strategizing and scaling your business. Order management, shipment, and returns processing are all handled by a 3PL that provides fulfillment services. Fulfillment can be one of the most time-consuming and costly processes for any business, particularly eCommerce. In the fast-paced, technologically driven world we live in today, it can take time to keep up with both the demand and the expectations of your customers.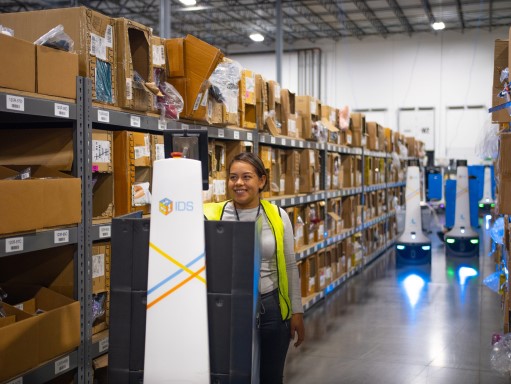 Consistent and reliable third-party fulfillment services are pivotal to any successful growth-oriented business model, and let's be honest, who needs to be growth-oriented? A 3PL fulfillment partner can locate the critical patterns of an order intake and strategize to provide end-to-end third-party automated logistics fulfillment services seamlessly. When partnering with a third-party fulfillment provider, you should be focused on their ability to provide a fast and effortless experience. 
When to Turn to 3PL Fulfillment Services
There are many reasons a business turns to a third-party logistics company for its services; most lead back to the inability to scale. A business strives to grow and continue to scale with the demands of its customers. Businesses like yours work to keep your customers satisfied. What happens when you must catch up on the fulfillment process and leave customers hanging? They may never come back. After all, customer satisfaction is what we all strive for. 
Some businesses need more warehouse space, meaning you need more storage space for the demand. Orders begin to delay when warehouse space is limited, which leaves your customers unhappy. A 3PL can offer the technology and space to ensure your orders aren't delayed and your customers are happy. 
Inventory management is a complex aspect of your business, but it can sometimes get away from you. 3PLs offer optimization regarding inventory management, which allows for better, more efficient fulfillment, knowing what products are available, where they are located, and when you require more of something. The fulfillment process is one of the most important parts of the business and one of the most complex. Before the process diminishes and customers leave negative reviews, it may be time to look into a 3PL.
IDS Fulfillment: The 3PL Fulfillment Partner You Need
IDS Fulfillment has strategically oriented itself to provide two-day shipping across 90% of the United States. Our warehouses, located in Utah and Indiana, are standard-compliant, meeting all FDA guidelines for cosmetic products, food, over-the-counter products, and medical device storage. With the following pillars, partnering with IDS allows you to focus on the other core aspects of your business:
Stability: With over five decades of experience in providing innovative and reliable 3PL fulfillment services, organizations small and large come to us for a reliable, safe, and growth-oriented partnership. Our active private ownership continually steers and finetunes our vision, direction, and efficacy in all services we provide.
Dedication: Our full-time staff is a team of professional experts with years of experience and cooperation. Our team will work to strategize and create a winning strategy to ensure you're getting the most out of our 3PL partnership. IDS Fulfillment is dedicated to providing you with detail-oriented service from receiving to shipment.
Integration: IDS offers full-service and selective 3PL fulfillment, which allows you to leverage what you need most regarding your fulfillment needs. We can comprehensively assess and implement a solution that maximizes the value of our services to your business. Our expertise has further helped business owners better understand optimization areas and where 3PL can fit in to streamline and maintain business continuity.
Turning to IDS Fulfillment for Help
At IDS Fulfillment, we know it can be difficult to turn to a third-party logistics provider. A common misconception is that you relinquish control, which differs from IDS Fulfillment. We are here to provide you with the proper innovative fulfillment solutions that help your needs so that you can turn your attention and resources to other crucial parts of the business.
With transparent and technological systems that combine all logistics aspects under one manageable umbrella, IDS allows you to re-imagine your business prospects and growth. Our clients are our top priority, so we do everything in our power to better understand your business and goals.
Our team cares about your bottom line as much as you do, and we're here to help support that goal through our 3PL services. At IDS, we focus on what is in front of us and provide insights to assess and monitor all aspects of logistical flow. Our guidance can help you smoothly integrate new services with existing ones without any debate or disruption in service or fulfillment.