E-Commerce Order Fulfillment
IDS offers fulfillment services to companies brand focused companies. We take our customers brand very seriously and help implement the brand experience through the fulfillment process.  With substantial size, robust disaster avoidance and recovery planning, FDA level processes for all of our customers, and strong record of consistent success in fulfillment services IDS provides a safe, secure and high performing asset for our customers.  Our capabilities, flexibility and process driven approach enable our clients to aggressively pursue their own marketing, branding, and sales opportunities knowing that they can back it up with a responsive and successful experience through to unboxing in their customer's homes.  IDS provides the platform that will scale with our customers and offer the capability to serve other markets as well. ‌
IDS offers customized eCommerce order fulfillment services that are fast, dependable, and driven by proven processes. For over 60 years, we have perfected our processes in order to offer an automated order fulfillment service that online retailers can trust to get the job done. This is why IDS is frequently named a top 3PL provider and one of the best fulfillment companies year after year. 
Whether you are a well-funded start up or a multi brand company, IDS will exceed your expectations. Our strategically located fulfillment and distribution centers on the East and West coast provide you two day shipping options to 92% of the U.S. Combine that with our real time order management system and you get an order fulfillment service utilizing robotics that is accurate, on-time and provides you with complete fulfillment and shipping visibility. 
The bottom line is that we provide integrated fulfillment and shipping solutions that are dependable, capable, and process driven.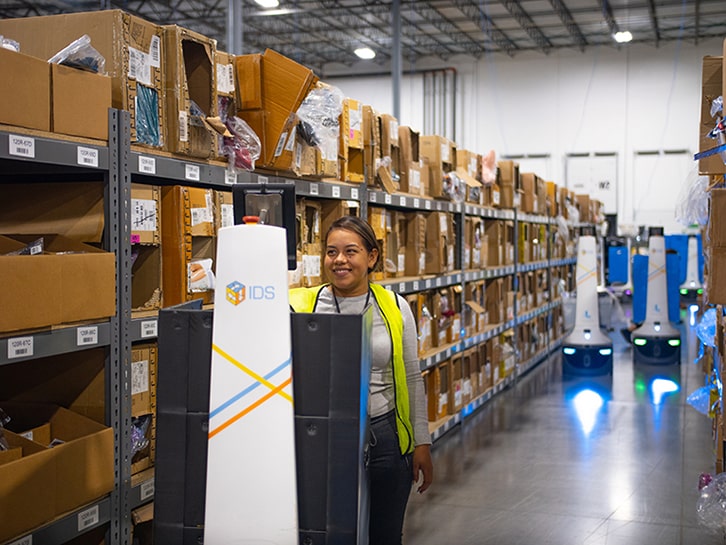 IDS has strategically located eCommerce distribution centers in Utah and Indiana. These locations were selected because of how they scored on a variety of criteria. Both locations offer a low cost of living, a favorable tax environment, and a robust workforce. Most importantly, these locations enable 2-day shipping to 92% of the United States. These factors allow us to provide an eCommerce order fulfillment service using automation that is more cost effective, providers faster shipping times, and tested reliability. All IDS facilities utilize the same processes, procedures and systems to ensure you get the same high quality of service no matter where your product is located.
Our Indiana facilities features our HQ and provides our East coast fulfillment services. Indiana is called the cross roads of America because of the large amount of interstates that converge there. Our Indiana fulfillment and distribution center is located at the heart of it all in Plainfield, Indiana, a large logistics hub favored by many ecommerce and retail giants. This allows fast access to all of the major carrier hubs giving IDS later pick up times to provide our customers with later order cut off times.
Our Salt Lake City Utah fulfillment center meets the needs of our West coast fulfillment. Utah is a prime location for west coast fulfillment largely for the same reasons Indiana is. Utah has a favorable legislative and business environment, as well as a large work force to tap into like some other Western states. But Utah tends to have an advantage in costs of living which allows us to pass that savings on to our customers.

Parcel Discounts with IDS ProParcel
Retailers need to understand the importance of having a parcel shipping program that can allow low cost order fulfillment that meet customer transit expectations.  Through IDS' ProParcel program, we aggregate shipments amount our customers to negotiate the best rates to pass along to our customers.
Carrier relationships can be difficult to manage and there isn't a one size fits all solution.  Through ProParcel, we help our customers find the best automated shipping solutions that meets their price point and expectations.
Carriers view 3PL's often in a different light, and working with a fulfillment partner who understands and has a close relationship with the carriers can provide tremendous benefits.  IDS has spent years developing the right relationships and carrier negotiation tactics to provide the most value to our clients. We frequently renegotiate our shipping rates and service levels on behalf of our clients and share our group discounts so all of our clients can benefit.
The IDS WMS provides a high level of visibility into your fulfillment operations. At any given time, IDS clients are able to see an instant snap shot of all of their inventory and orders, including order status. This allows both IDS and our clients to react quickly and easily when issues arise. Orders that are delayed are quickly flagged and the information can be called up for resolution in seconds. 
Each activity IDS staff completes is tracked and logged within the WMS. Those activities are associated with the individual items and can be quickly referenced. This allows retailers to see exactly what is happening behind the scenes at IDS without time consuming emails and phone calls. For us, this visibility allows us to respond to delays or operational complications in real time.
Our IT team has worked to build robotic integrations into all of the major shopping carts so that set up and connecting systems is quick and painless. But if you happen to use a system that doesn't have a pre-built integration, our team will build an integration for you.
Schedule a Free Consultation
Whether you're thinking about switching from your current third party logistics providers, or you're exploring the idea of using 3PL services instead of in-house eCommerce logistics & fulfillment for the first time, IDS Fulfillment can help. Contact us online now to speak to a representative, and see why we're the best choice for third party logistics services.