3rd Party Logistics Services
IDS Fulfillment is an experienced, reliable third party logistics service provider. First founded in 1960, in the past two decades our team has focused on providing third party logistics services for both B2B and B2C clients. We have built a robust network of automated shipping hubs to provide speedy service throughout the continental US and beyond. From receiving to warehousing and storage using robotics, picking and packing, and shipping items directly to customers, our team of experts handles the entire process – allowing our clients to focus on expanding their businesses, rather than handling order fulfillment and logistics in-house. Our robust network, infrastructure, and expertise allow use to provide third party services like:
Thanks to our strategically-located fulfillment centers in Indianapolis, Indiana, and Salt Lake City, Utah, we provide rapid shipping and fulfillment to customers throughout the continental U.S. using our advanced automation techniques. As a market leader in third party logistics services, we handle every step of the process from end-to-end – ensuring a great customer experience, and improving the efficiency of your organization's fulfillment services.
Our services begin with receiving and warehousing. We will work closely with you to establish systems to receive, warehouse, and manage your inventory, and use our advanced technology to provide data and analytics about stock levels to help prevent stockouts and other issues.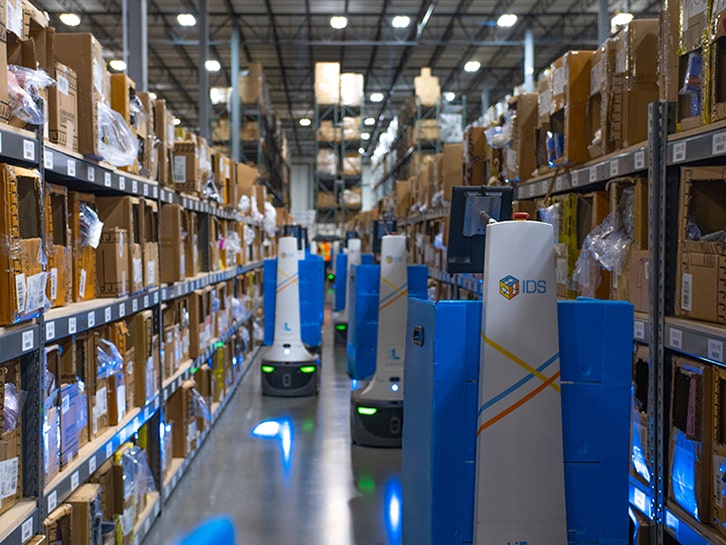 Expert Picking & Packing Team
With IDS Fulfillment, you also benefit from an expert picking and packing team. Using advanced robotics technology to locate items quickly, as well as packing and shipping best practices, we will pack your orders safely and with an eye for detail, ensuring they reach their destination without damage. With a wide variety of different packing materials available, we will optimize each shipment for maximum protection with minimum weight and bulk, which saves you money when shipping your items.
Speaking of shipping, we also partner with leading shipping companies to provide the best possible delivery times at the lowest price. If you have a preferred carrier, such as UPS, DHL or, FedEx, our team will keep these preferences in mind to ensure a consistent customer experience. However, we also offer tools that allow for the comparison of pricing, shipping times, and other information between carriers, ensuring you get the best rate for shipping your goods to customers.
By partnering with us, you gain access to a plethora of tools and automation technology that allow you to deliver your products to customers more easily – ensuring their satisfaction, and the continued growth of your organization.
Not sure that IDS Fulfillment is the best choice for third party logistics services? Thousands of customers have chosen us because of our:
Advanced technologies
East to understand dashboards
50+ years of industry experience
With our advanced technologies, you can rest assured that we're receiving, stocking, picking, and packing your items as efficiently as possible, maximizing throughput for your orders and ensuring timely fulfillment for your customers.
We provide each client with a real-time, easy-to-understand dashboard that provides all of the information they need about their orders – all at their fingertips.
Finally, we have more than 50+ years of experience in the industry. Our company was first founded in 1960, and has built a strong reputation for providing reliable third party logistics services for omni channel distributors.

Schedule a Free Consultation
Whether you're thinking about switching from your current third party logistics providers, or you're exploring the idea of using 3PL services instead of in-house eCommerce logistics & fulfillment for the first time, IDS Fulfillment can help. Contact us online now to speak to a representative, and see why we're the best choice for third party logistics services.