At IDS Fulfillment, we are always working to improve our services which includes keeping a keen eye on innovations and advancements in 3PL technology. Our use of 3rd party logistics software, in conjunction with our two strategically located distribution centers, enables us to provide 2-day delivery to 92% of the United States. As fulfillment technology paves the way for faster and more efficient distribution, IDS is right behind it and ready to implement new software. As of 2021, our fulfillment centers have been completely upgraded to make way for fully automated systems that utilize the power of robotics to increase the speed and capacity of our operation. For you, this means better accuracy, faster fulfillment, and comprehensive insight into the ongoing status of your products and shipments.
Advanced Warehouse & Fulfillment Software
Our 3rd party logistics software leverages the latest 3PL technology to reduce errors in packing, tracking, and relaying information to both customers and retailers. This means that for general packages as well as specialty branded packages, we're able to ensure that any specific instructions, inserts, packing materials, and other components are included during the packing stage as per customer instruction and preferences. Our software also supports a broad range of communication networks and e-commerce platforms so that retailers are able to view key metrics throughout the fulfillment process.
Specifically, warehouse management system software can:
Create customized reports
Track shipments, inventory levels, and order status
Remotely check inventory levels in real-time
Provide seamless integration to your e-commerce shopping cart or other vendors
Request shipments quickly for new customers
Adjust for seasonal spikes in shipments and orders
Conduct comprehensive cost analysis of all logistics services
Provide full transparency from order placement to delivery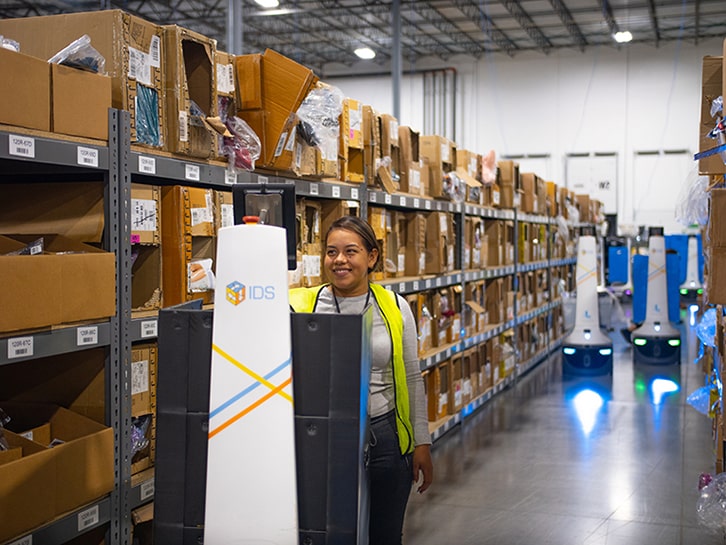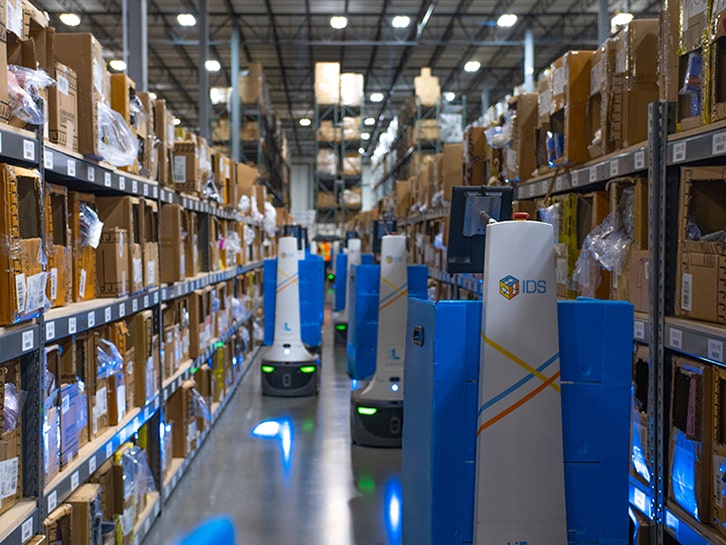 Robotics have helped to change the world of fulfillment technology and enable IDS Fulfillment to provide next-level service to our customers and retailers. Our warehouses have been upgraded to utilize Kiva Systems robots that allow for faster picking, packing, and shipping of all orders. Our robots use advanced fulfillment technology to carry shelving pods to our warehouse staff in a continuous flow, eliminating the manual and time-consuming task of walking across warehouse spaces to find individual products.

Small barcodes are placed on the floors of each aisle to provide specific directions to each robot so that products always end up in their designated places and issues of misplaced products are eliminated. Shelving pods are then automatically summoned based on order details that are displayed to our staff and delivered by our robots enabling us to fulfill orders in record time. With these faster processing times and a larger product capacity, you gain the ability to scale your operation and increase revenue without fear of fulfillment bottlenecks.
Schedule a Free Consultation
Whether you're thinking about switching from your current third party logistics providers, or you're exploring the idea of using 3PL services instead of in-house eCommerce logistics & fulfillment for the first time, IDS Fulfillment can help. Contact us online now to speak to a representative, and see why we're the best choice for third party logistics services.